'in the presence of light' at the templon gallery
for the first time in almost two decades, templon gallery presents the complex work of american artist michael ray charles in an exhibition titled 'in the presence of light'. visible until May 7, 2022the exhibition transforms the spirit of the gallery attic-saint-lazare space in paris in a theater scene in reference to minstrel shows, a popular 19th century entertainment format when white actors in blackface played black musicians. within it, the artist presents new paintings and sculptures with a color palette limited to shades of black and white. striking as well as disturbing, these unpublished works subvert American popular imagery to challenge the common perception of identity and racial discrimination. the exhibition is accompanied by the publication of a book written by curator hedwig van impe telling the extraordinary story of her collaboration with the artist.
born in 1967 in lafayette, louisiana, united states, michael ray charles is considered a pioneer in exploring the representation of african american communities in american history and pop culture. many of his paintings examine racial stereotypes that appear in advertisements, billboards, and product packaging. the artist caused a sensation when he appeared on the art scene in the 90s, while the success of his exhibitions at the tony shafrazi gallery in new york (1994 to 1999) quickly led him to exhibit massively throughout the 'Europe. However, the controversial reception of his work, combined with a growing sense of frustration with the American art world, led him to focus solely on his work and research, avoiding public exhibition for nearly twenty years old. designboom spoke to michael ray charles to learn more about his comeback, as well as the provocative new works he is showing at templon gallery. read our maintenance in full below.
michael ray charles, (forever free) the facts of live, 2012, paint, acrylic latex and copper penny on canvas, 195 × 140 cm — 76 × 55 1in.
all images courtesy of templon / hedwig van impe © remei giralt
INTERVIEW WITH MICHAEL RAY CHARLES
designboom (DB): this is your first exhibition for almost 20 years. What prompted you to withdraw from the public sphere?
michael ray charles (MRC): I think at the start I got off to a fast start. and while I was holding mine I had some concerns about the speed and what I was producing. I travel and give talks and talk about my work and along the way I realized that America was not cured when it came to notions or issues of race. often people looked at my work and their responses were less about the work, the work became a source for them to express themselves. and I started wondering why was that the problem? it got me thinking about notions of power and how people lacked power or had some power to speak out about certain ideas. often, black people were disturbed by the images, but they talked about it as if they were black people. and it varied according to the whites, their commitment to the work. also, the way my work was written worried me. or myself, for example, was called "a wild child of the south", as if I was wild and needed to be tamed or cultivated by the north. I felt that people weren't talking about the work enough, that they weren't exploring the imagery enough and that it was more reactionary. the job had other challenges, don't get me wrong, but it was a moment of pause.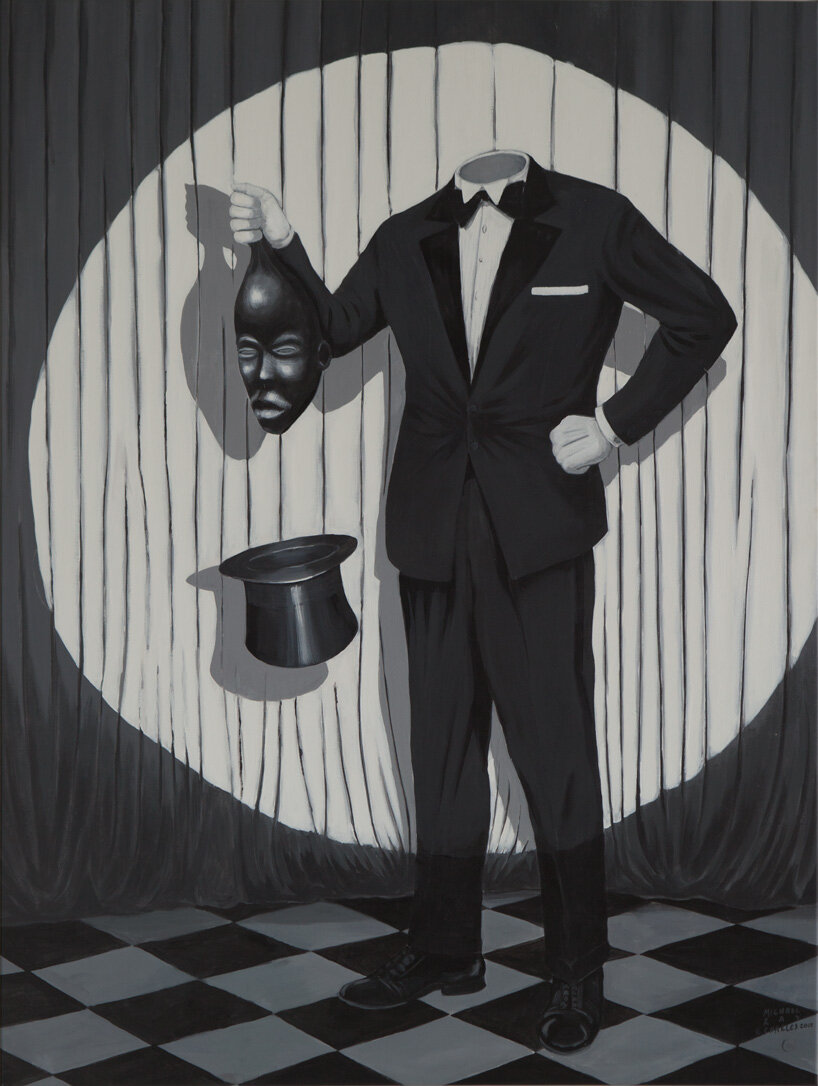 michael ray charles, (forever free) the magic man, 2012, acrylic latex and copper penny on canvas, 185 × 140 cm — 72 7/8 × 55 1/8 in. (also header image)
DB: what made you decide to exhibit again now?
RCM: I had the opportunity to explore a culture here in paris and brussels, so I started to get into it. When I came here, I started thinking about being black in America versus being black in Europe and different parts of Europe, and what that means. what were the similarities and differences? I was working with a business partner of mine, Hedwig van impe, and we decided it would be a great idea to just produce some work. I would come abroad, I would work here and we would travel. I was able to access experiences and ideas about issues of race, power, and history, and meet people I wouldn't otherwise have access to.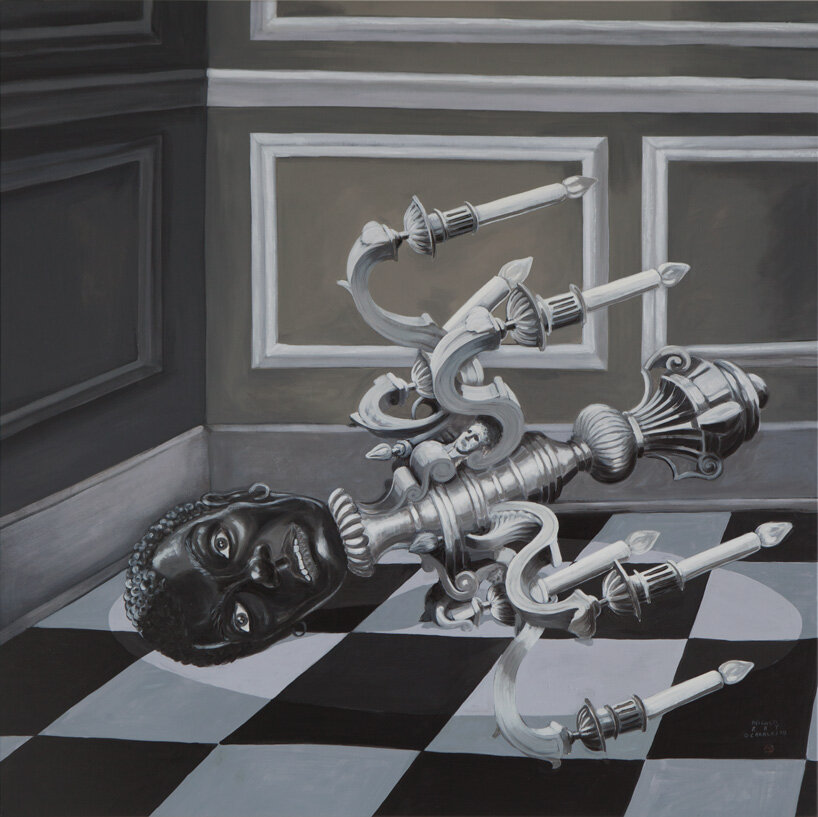 michael ray charles, (forever free) black values, 2013, acrylic latex and copper penny on canvas, 170 × 170 cm — 66 7/8 × 66 7/8 in.
DB: Do you think the public's perception of your work, from 20 years ago to today, has changed in any way?
RCM: I don't know, obviously things have changed in 20 years. there are different ways people engage with the work, people come to see the work for different reasons. I am someone who believes that you are also attracted to who you are. sometimes people are interested in collecting works for specific purposes. hopefully there's an aesthetic component that grabs a person's attention, and hopefully there's the feeling, the feel, of questioning what you see. all of this is important to me. there was consistency, and I think even if I exposed more there wouldn't have been much difference. there seems to be a similar interest.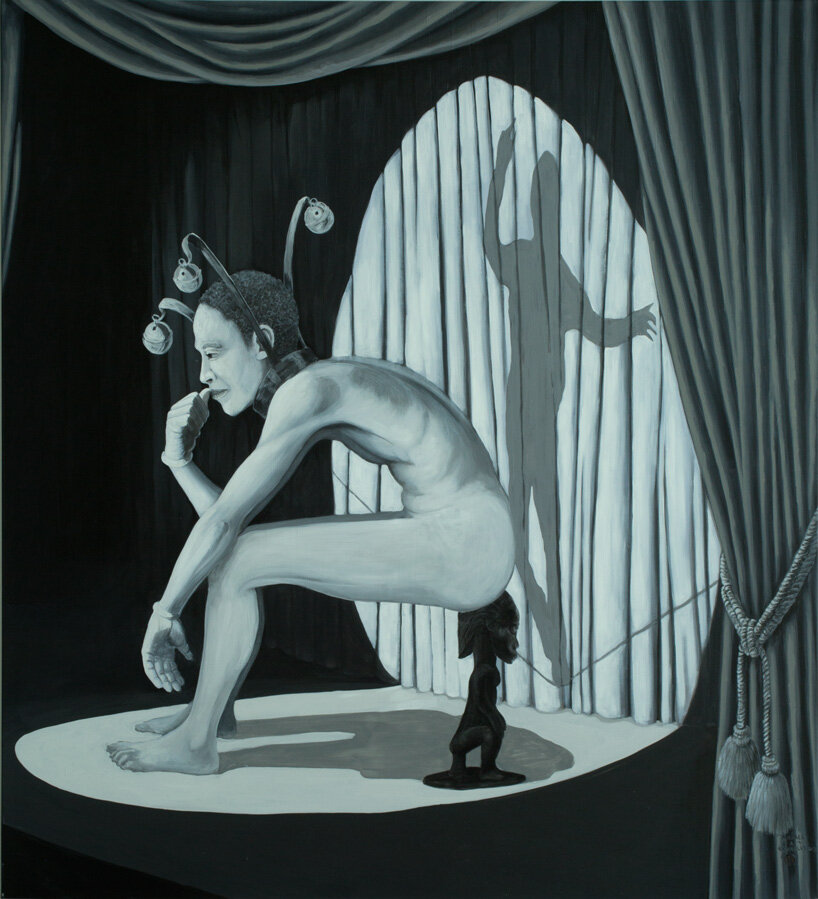 michael ray charles, (forever free) the road most traveled, 2013, acrylic latex and copper penny on canvas, 170 × 155 cm — 66 7/8 × 61 in.
DB: you are presenting new works, including paintings and sculptures, at the templon gallery. do they work as a continuation of your previous work in terms of the themes they address or are there additional topics?
RCM: I like to think of growth as linear. certainly I could make tables, next to tables, next to tables and, and show the evolution of the work. there are certain ideas that continue to persist, but earlier works were definitely informed by a different set of intentions. I made a conscious effort to have the work I thought reflect the characteristics of hip hop culture. I thought there was a time when black youth had the ability to express themselves in an authentic way that was different from previous generations, and I wanted to not borrow, but make art out of it. the best way was to make art that intersected with those characteristics. it was shameless work, it was in your face, it was confrontational, it was playful, it was clever at times, intelligent, I would even say brilliant, colorful. but I've always been interested in art that serves other purposes than what people typically associate with it as something that sits on the wall and gives you a moment of departure. I'm really interested in how the past stays present, so I try to make art that encourages or nurtures the exploration of such ideas.