Held at International Convention and Exhibition Center in Sydney from 20-22 October 2022, Design Show Australia featured over 100 exhibitor booths and a full program of speaker sessions across three stages. Here we select some of our highlights from the Sydney 2022 show stand.
Snelling
This New Zealand-based multidisciplinary lighting, furniture and object studio presented an intimate 'cave' of their designs. Shaped by Bec Snelling's formal training as an artist and his years of experience as a designer, the sculptural yet functional pieces literally shone and shone on the stand. The result was a space that resembled an art gallery rather than an exhibition stand.
Nau
At Cult Design's Nau show, Adam Goodrum's new Lincoln sofa was on display alongside the new Nest Monochrome tables and Furl coat rack. Also on display were the Nami dining table and Sia chair by Tom Fereday and the Jolly pendant lamp by Kate Stokes. Designed in an understated decor of sheer overlapping curtains by Kvadrat Maharam, the stand looked like a beautiful residential setting.
Suggested
Although tiny, this booth had a big impact. Lined with Sugi's Japanese cedar in various finishes, it gave the impression of a peaceful Japanese cabin – a huge feat in a busy trade show. The simple, authentic design by New Zealand studio Scott Fitzsimons was one of my favorites and really captured the honest material, available from Japanese Timber Australia. And it smelled good too!
Australia's next best designer
Shining the spotlight on emerging designers and makers, Australia's Next Top Designer's Showcase showcased a range of original and exciting products and concepts that are shaping the future of design. Some of my favorites were Anonymous Design Haus' Channel Lamp, Sasa Barnes' Glass Sculptures, and Bolaji Teniola's Shaved Timber Vessels. The next generation of designers is definitely one to watch.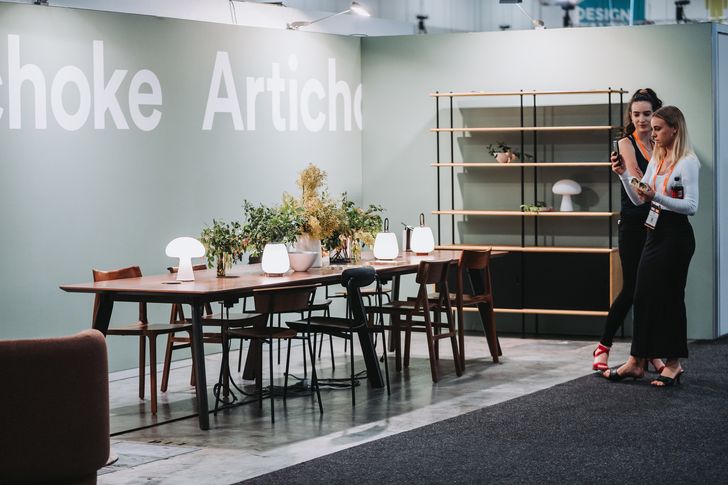 Artichoke lounge
What kind of proud editor would I be if I didn't mention our very own Artichoke Lounge? Designed by Lisa at the Freehand Design Studio with products from Cult Design's Nau Collection, the stand was the perfect opportunity to relax, work and pick up a free magazine in the process – all while surrounded by the Chameleon table from 'Adam Goodrum, his Don, Molloy, Softply and Mega Tulip chairs and Tom Fereday's Sia chair.