York City Council has given the go-ahead to Feilden Fowles' controversial plans for a major expansion of the National Railway Museum after a four-hour debate.
Planning committee chairman Chris Cullwick pushed the plan over the finish line with his deciding vote after councilors were deadlocked with five votes in favor and five against.
This means that Leeman Road, which is the main access route to the city center and the station for thousands of people, will be permanently closed to make way for the expansion.
The plans, which received nearly 100 objections, will unite the two main museum sites on either side of the road with a large rotunda, known as Central Hall.
It is part of a wider £55 million expansion of the two museum sites, the other being in County Durham, which aims to turn them into the world's leading railway museums and a 'powerhouse of 'world engineering'.
Plans by AOC for a £5.4million building on the County Durham site, which will store up to 50 rail vehicles, were approved in June.
Landscape architect Optimized Environments was also given a role in the redevelopment last month.
Feilden Fowles said the two-storey central hall structure, topped with radial Douglas fir timber beams, was inspired by the history of locomotive roundhouses and railway turntables.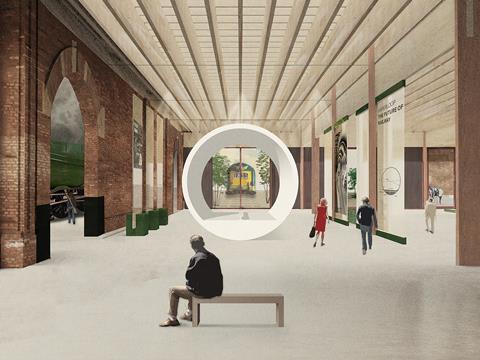 A first-floor balcony will offer views across York, while five ground-level doors will lead to different parts of the museum, including a new exhibition hall.
The firm won the designer position in spring 2020, beating shortlisted rivals Carmody Groarke, Heneghan Peng and French Atelier d'Architecture Philippe Prost in an international competition.
The York Museum, which is based in the former York North locomotive depot, is the largest of its kind in the UK and saw almost 800,000 visitors in 2018/19.