MAD shapes the Hainan Science and Technology Museum "like a cloud in dialogue with nature"
MAD architects, led by ma yansong, unveils plans for hainan science and technology museum in haikou city, hainan, china. located on the west coast of haikou, surrounded by sports stadiums and a national wetlands park, the design of the project is inspired by the dual urban and natural context of the site, one where a "The primitive tropical forest and the technology of the future meet". the museum is MAD's second major public project in hainan after the cloudy landscape of haikou, which reopened in April, while it is expected to be completed and open to the public in 2024.all images courtesy of MAD Architects
When completed, the MAD Architects Hainan Science and Technology Museum will serve as a destination for exploring science, technology and nature, encouraging visitors to draw inspiration from both the urban setting and natural. against the backdrop of a rich tropical rainforest, the museum's main pavilion is shaped 'like a cloud in dialogue with nature'. from a distance, the futuristic building appears to emerge from the city, as visitors entering the museum area see it hover above the jungle.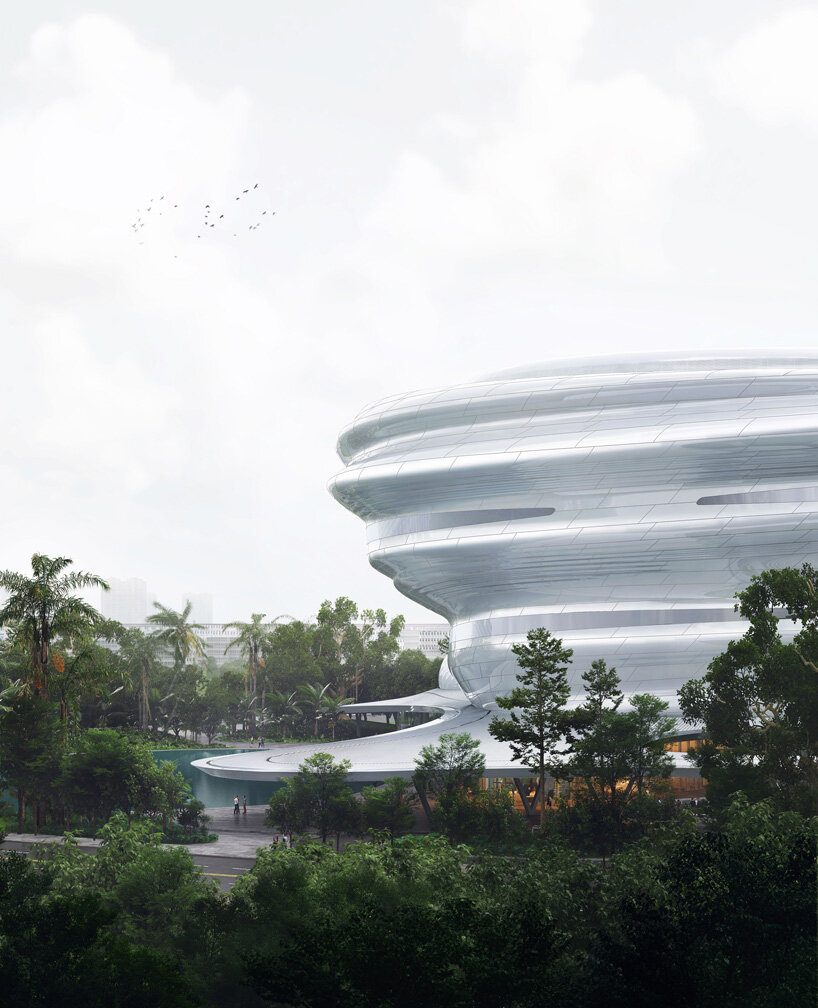 fiber-reinforced plastic envelops the museum's facade, making the building distinctive from near and far with its silver, reflective exterior and futuristic aesthetic. inside, the museum will include 27,782 m² of above-ground facilities, including a permanent exhibition space, a planetarium, a giant screen theater and a flying theater. its interior structure consists of three floor-to-ceiling cores, curved trusses, spiral ramps and a roof, all exposed to achieve harmony between architectural forms and the structural system. the spacious atrium is bathed in natural light thanks to a skylight in the museum's dome, creating a bright and transparent environment.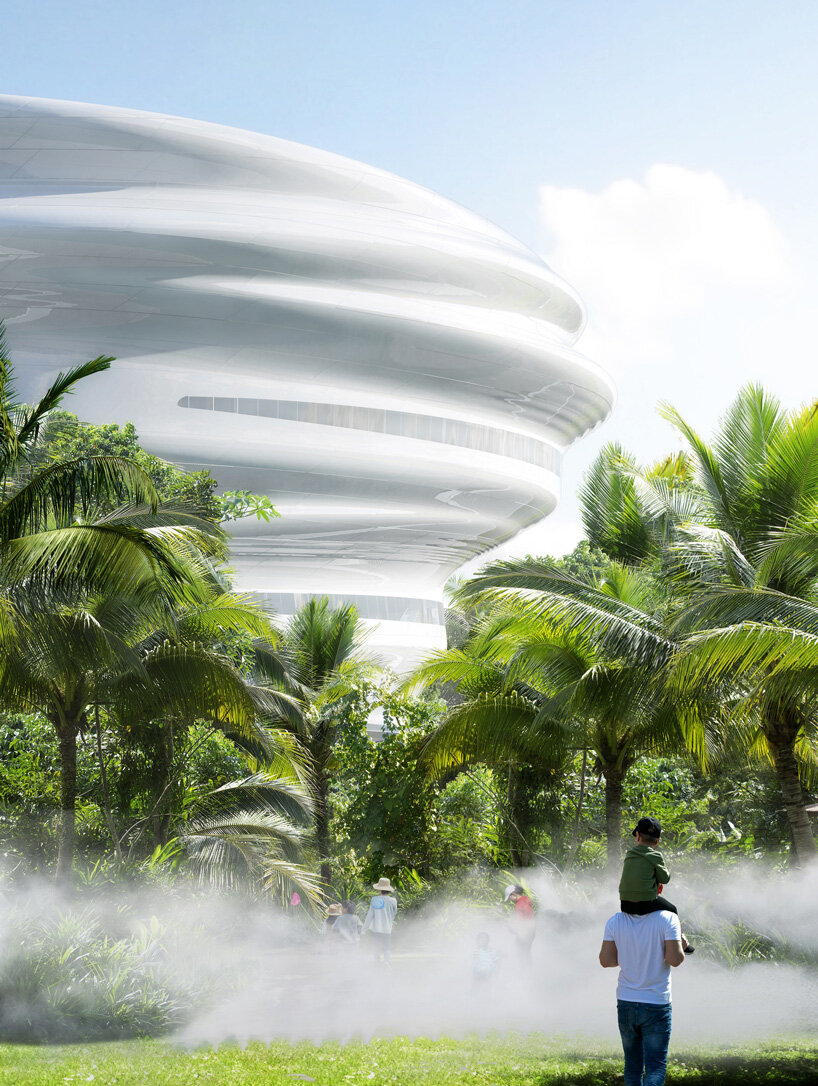 a spiraling, sloping exhibition space rises from the central hall over five floors, connecting visitors through the museum. the exhibition experience begins on the fifth floor, where the elevator opens to a 360-degree viewing platform with the sea and cityscape visible in the distance. visitors to this upper floor will start by exploring the technology and space galleries before descending the ramp to the ocean and life science galleries on the fourth floor, the math and science galleries on the third floor, and the interactive multimedia experience area and the children's play area on the second floor.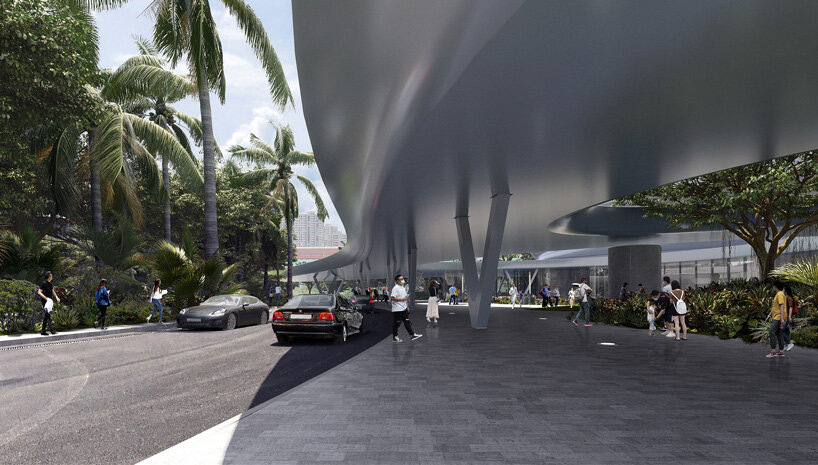 outside, a corrugated canopy extends from the main pavilion in all directions, protecting the public from the humid and rainy haikou climate. the north side of the canopy also hosts the giant screen and the flying theater and, in the southwest corner, the planetarium and observatory. the museum's various outdoor public spaces, including a crater-shaped sunken plaza and reflecting pool, provide spaces for rest and relaxation. "The diversity of the surrounding tropical plants makes it an ideal setting for discovering nature, offering visitors more than a simple experience of viewing exhibitions while also offering a pleasant environment to freely enjoy and discover nature", MAD note.
the hainan science and technology museum will open at the end of august 2021 and is expected to be completed and open to the public in 2024.