The Marshall Major IV are unpretentious wireless Bluetooth on-ear headphones that combine the brand's signature amplifier aesthetics, a fully knurled finish, black metal hinges and an iconic script logo, with a battery life of high battery and analog ease of use.
This is essentially an update of the Marshall Major III, driven by a huge power reserve: 80 hours on a full charge, made possible by the fact that they run in economical Bluetooth v5.0 and do not have not consumption caused by ANC (Active Noise Cancellation).
They're also on the bright side of affordable prices, typically selling for around $ 149 / £ 129, making them a great pair of budget wireless headphones and they look tough enough to spend a lifetime on the road.
Marshall Major IV Review: Design
Available in classic black and festival mud brown with a beige strap, it's easy to love the look of the Marshall Major IV. These are classic Marshalls, with a matte finish and a proudly visible white script mark. The headband is textured and holds the ear cups in place with black metal hinges. The ear pads have been changed from the previous iteration of the Major for more comfort, and they're quite soft, although the headband itself is a bit less generous when it comes to padding.
They are also lightweight, making them easy to wear for long periods of time. When you're done, the headphones fold down to a handy size, making them easy to stow in bags or backpacks.
The right mug offers a USB-C charging port, as well as the multi-function control button. Included accessories include a USB-C charging cable and a 3.5mm stereo cable.
Marshall Major IV Review: Features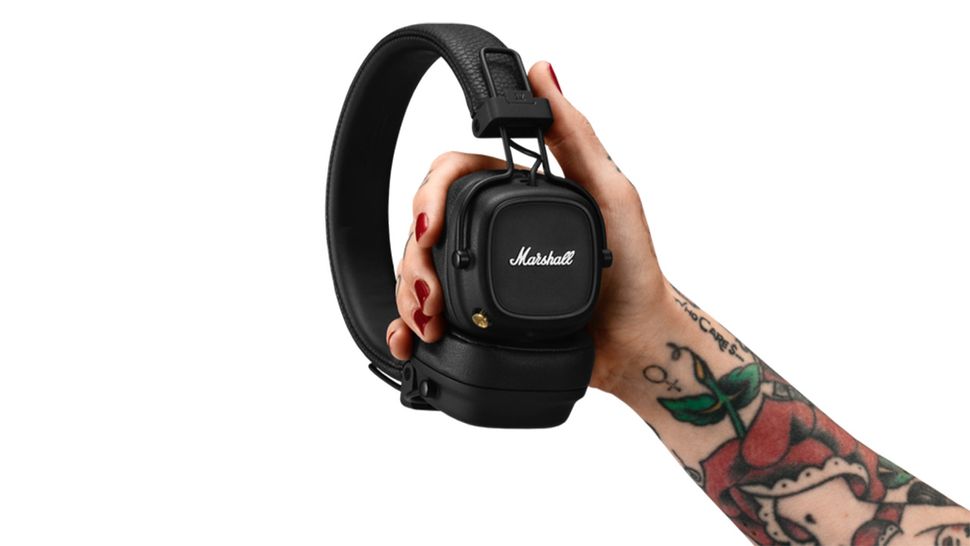 The usability is pleasantly tactile. Rather than relying on touch control, the brand retained its classic multi-directional control knob for volume and navigation – play, pause, and skip. You can also use the button to take calls. Just don't try to call Alexa's Siri because they're not listening.
On the right ear cup there is also a 3.5mm mini jack, which means when your battery dies you can wire it up and keep listening. Alternatively, you can also share your music with a buddy, if they want to plug in their headphones while you stay wireless; the plug also makes these headphones suitable for use with in-flight entertainment devices, don't forget to pack that odd two-prong adapter.
The Marshall Major IVs are also compatible with wireless chargers. Simply place the headphones on a cushion (not included) for 15 minutes and you'll pocket 15 hours of playback. It is fair trade. The headphones come with a USB C cable for more conventional charging.
Marshall Major IV Review: Sound
The Marshall Major IVs are full of sonic surprises. The bass drum beat of I want to be your slave, the Måneskin Iggy Pop team, is tough and energetic; these Marshall shots are louder than you might imagine for modest sized ears (in fact, they're one of our picks in our guide to the loudest headphones). Such deep bass is a clear point of difference between these bluetooth headphones and, say, the Sennheiser 350 BT.
This ability to hammer hard doesn't come at the expense of momentum either. The strident return that signals Pop Evil's May chaos reign, is rightly clean and piercing. And of course, there's the guitar tone that Marshall always gets so right – the power chords of Pop Evil's riffs reverberate like furious surf on those cans.
Sometimes the bass weight of the Marshall Major IV threatens to overwhelm – there are dots in Coming home by Kiss' MTV unplugged, when the balance gets out of hand, but you're never more than a chorus of a perfect midrange. The Paul Stanley composed back vocal on this track is full of nuance and musicality here, and the jangly guitars that back it up sound sweet and bright.
The punchy bass and melodic mids can be attributed to the custom 40mm dynamic speakers used inside. The sensitivity is rated at 99dB SPL.
There is also some decent spatial imagery to be had. Helloween's opening chords Fear of the Fallen are placed wide, leaving plenty of space for the multiple singers in the group to jostle each other to position themselves. Any fear that these headphones may seem too confined is unfounded.