Rubin Center hosts first in-person student exhibit for 2021 – The Prospector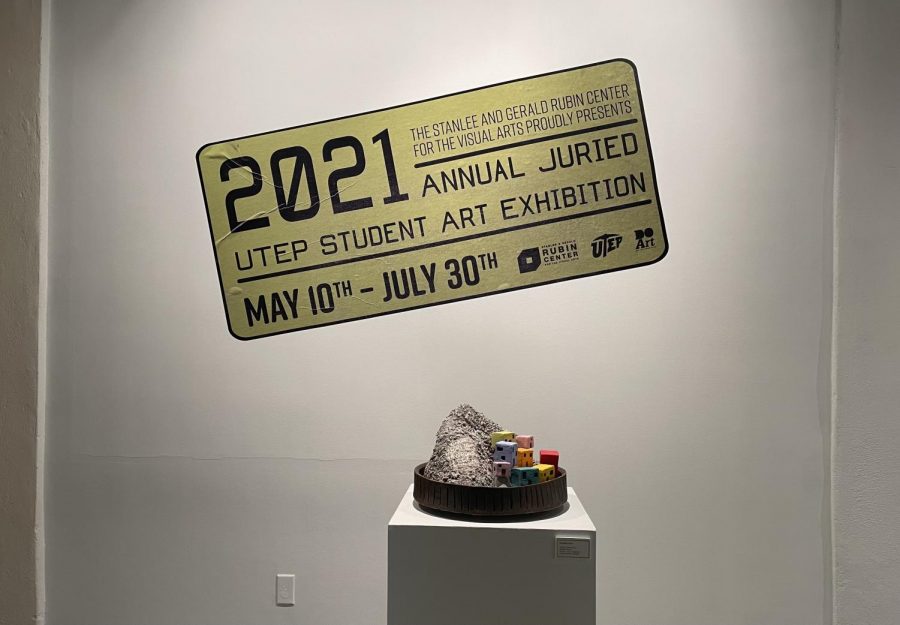 For the first time in a year, the Stanlee and Gerald Rubin Center for the Visual Arts is hosting the annual UTEP Jury Art Exhibition in person and virtually.
Last year the exhibition was completely online. Kerry Doyle, director of the Rubin Center, said the experience of being able to celebrate with the winners in person was well worth the wait.
"Studio arts students came to campus this year, so it was great to see this work, but we were also very happy to have the work in the gallery as well," said Doyle.
The exhibition opened on May 10 and is open to the public until July 30. The art on display falls into different categories, including painting, sculpture, drawing, ceramics, metals, engraving
and graphic design.
About 400 submissions were sent by students in the art department.
The works were chosen by two jurors: Daisy Naam, curator of Ballroom Marfa, an art center in Marfa, Texas, and Libby Morris, vice president of design and artistic director of the Giles Design Bureau in San Antonio. Naam was the juror of fine art and Morris was appointed the juror of graphic design.
120 pieces were featured in the display case and one winner, Dilan Torres, a specialist in studio art, took home the Global Best of Show award.
Torres said he felt humiliated when he learned he had won the overall Best of Show award.
"I was completely surprised because everyone here has an equal chance of winning," Torres said.
Competitors submit their work virtually by submitting photos. After the pieces were chosen for the awards, the artwork was displayed in the center.
Torres has a concentration in drawing and a minor in painting. His article, "I Saw a Ghost in the Supermarket" was inspired by the George Floyd protests.
"It triggered something in me that made me want to talk more about my identity in terms of my ethnicity and heritage," Torres said. "I wanted to do a work that exposes the experience of being Mexican-American or a person of Hispanic origin living in the United States."
Torres mainly uses charcoal, pencil and graphite as mediums for his works.
His award-winning work is divided into three different pieces, which mimic a plan by showing different people in motion. The pieces also have small portions of text spread throughout the images. Two of the pieces are black and white and the last piece uses a small amount of color.
The exhibition also awarded the students with the prize for the best graphic design, the best painting, the best drawing, the best ceramic work, the best jewel, the best drawing or painting in life, the best photograph / digital image. , Best Impression, Best Sculpture and Honorable Mentions.
"I really appreciate it when I can see a piece of art in person," Torres said. "I can see textures and scale, which is something you can't really interact with when you see work online or on your phone, so those aspects of artwork are very important. "
For the graphic art exhibition, the center decided to use projectors and television screens to display a slideshow of all poster and print submissions to account for social distancing.
Looking ahead, Doyle says UTEP students and faculty can look forward to more Rubin Center art exhibits over the next semester.
"We are going to have a series of events during the month of October in public spaces. We're back to 100 percent in person for the fall, "Doyle said.
Torres plans to work on his craft and perfect his craft.
"There is a potential for greatness in every artist here," Torres said.
UTEP's annual juried student art exhibition can be viewed on the UTEP website or in person at the Rubin Center, open 10 a.m. to 5 p.m., Monday through Friday.
See the full list of winners of the 2021 UTEP Annual Student Art Exhibition with Jury below:
Honorable mentions in graphic design:
Jocelyne Verdugo, Identity Design Black Affinity Group
Itzyiana Nuñez, Seymour Chwast in El Paso
Aaron Mietlinski, Stop human trafficking
Noelle Marquez, Blackkklansman Poster
Chantel Rodriguez, Catalog Tadanori Yokoo
Third graphic design: Michelle Bautista, Drilo's birthday
Second graphic design: Jade Hernandez, Keep your distance
Best Graphic Design: Edgar Alvarez, Movie posters Amours Perros
Best drawing: Brandon Michael Soto, Gift
Best ceramic work: Kristen Morales, Dumpster fire of the year
Best Small Scale Jewel / Metal: Kristin Morales, Dead rhetoric
Best painting: Valérie Tejada, Coexistence
Best Photography / Digital Image: Iztchel J. Jaquez, In La Casa Foin Frijoles
Best impression: Andrew Hernandez-Betancourt, OooLaLa
Best sculpture: Martin Acosta, Thumbs up
Best drawing or painting in life: Barron Wortham, Cruise
Best of Show Overall: Dilan Torres, I saw a ghost in the supermarket
Nicole Lopez can be reached at [email protected]; @nicoleilopez on Twitter.