Quantum Park development would include a total area of ​​1.8 million square feet, 3,000 houses and towers of 15 to 25 floors
Whether it's still awaiting approval from the City of Vancouver for various rezoning requests or just an idea, the city's skyline looks much more futuristic thanks to these ambitious designs.
1515 Alberni Street
With residents able to move in by 2023, Fifteen Fifteen will rise 42 stories in Coal Harbor. Its unique block design was imagined by the international architectural firm Büro Ole Scheeren. The tower contains a total of 202 units starting at $ 900,000.
1684 Alberni Street
The spectacular 39-story residential tower is currently in its pre-construction phase after seeking rezoning approvals from the City of Vancouver. The weave design is the sculptural expression of an exoskeleton that creates two-story balconies that double as sun shades.
The Alberni Street side of the building will be bordered by a reflecting pool and a pedestrian bridge will span the pool to connect pedestrians to the building's main entrance. The building will also include a large multipurpose room and a spa. On the aisle side of the building there will be an outdoor dining area with a kitchen, barbecue, children's play area, social area, and patio benches and seating for residents.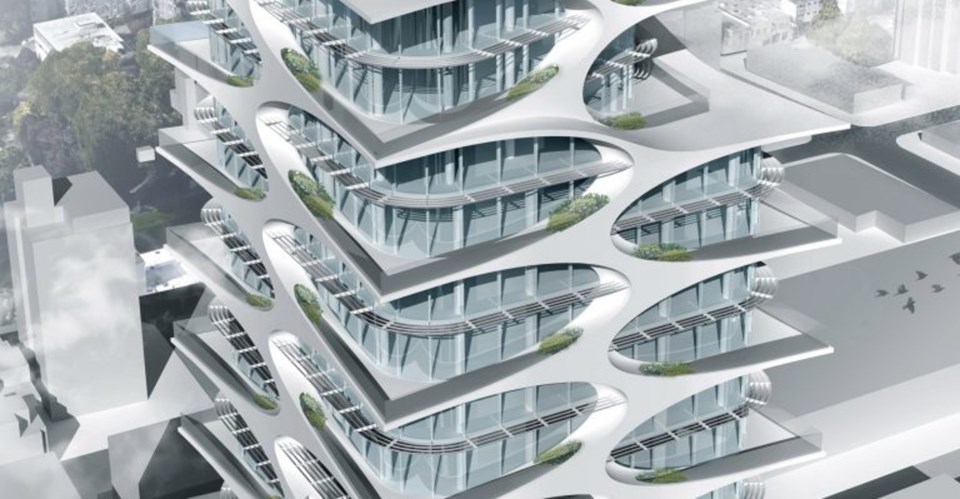 1728 Alberni Street
The two towers as seen in renderings by architectural designers at Heatherwick Studio have a very recognizable feature; each one narrows as it goes up and pinches near the fifth floor. A five-story podium would connect two towers, with the east tower reaching 30 stories and the west tower spanning 34 stories. Each would be over 100 meters tall.
According to a rezoning request for the properties at 1728 Alberni Street and 735 Bidwell Street, the development would bring 401 new residential units, including 160 one-bedroom units, 199 two-bedroom sites and 12 studios. Commercial units would be at street level, with multiple levels of underground parking. A 24-place daycare is also included in the design.
The towers are currently in their pre-construction phase after applying for a zoning change with the City of Vancouver.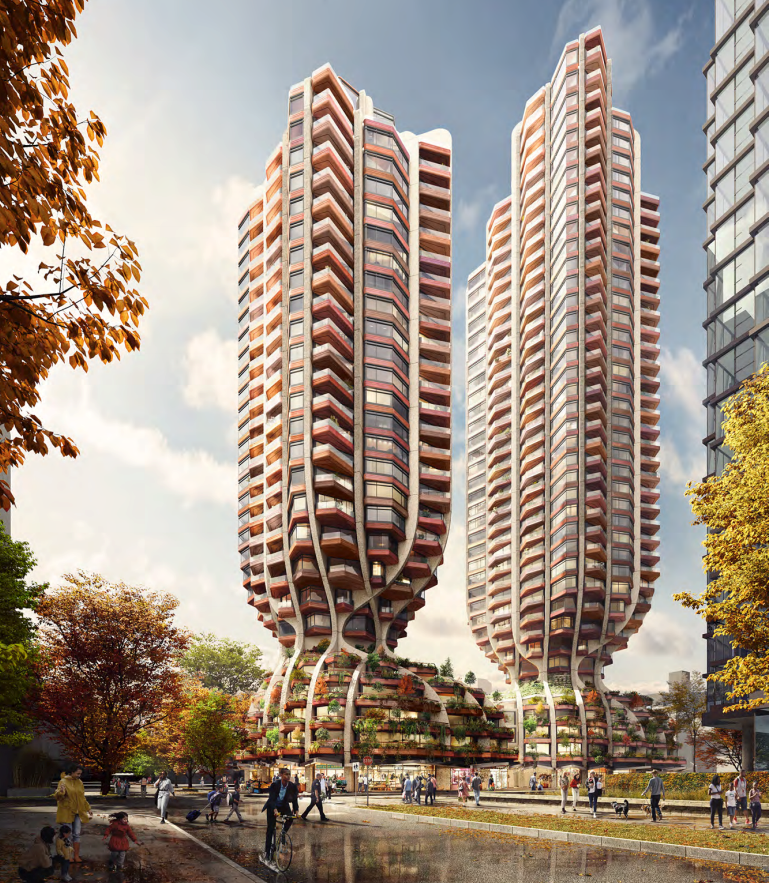 Place des Nations 772, boulevard du Pacifique
The City of Vancouver has approved the Canadian Metropolitan Properties Corp's proposal to change the zoning and develop the 10.28-acre site into a mixed-use development based on the Northeast False Creek plan. The plaza is expected to be up to 30 storeys high and include spaces for commercial, residential, social housing and other civic facilities.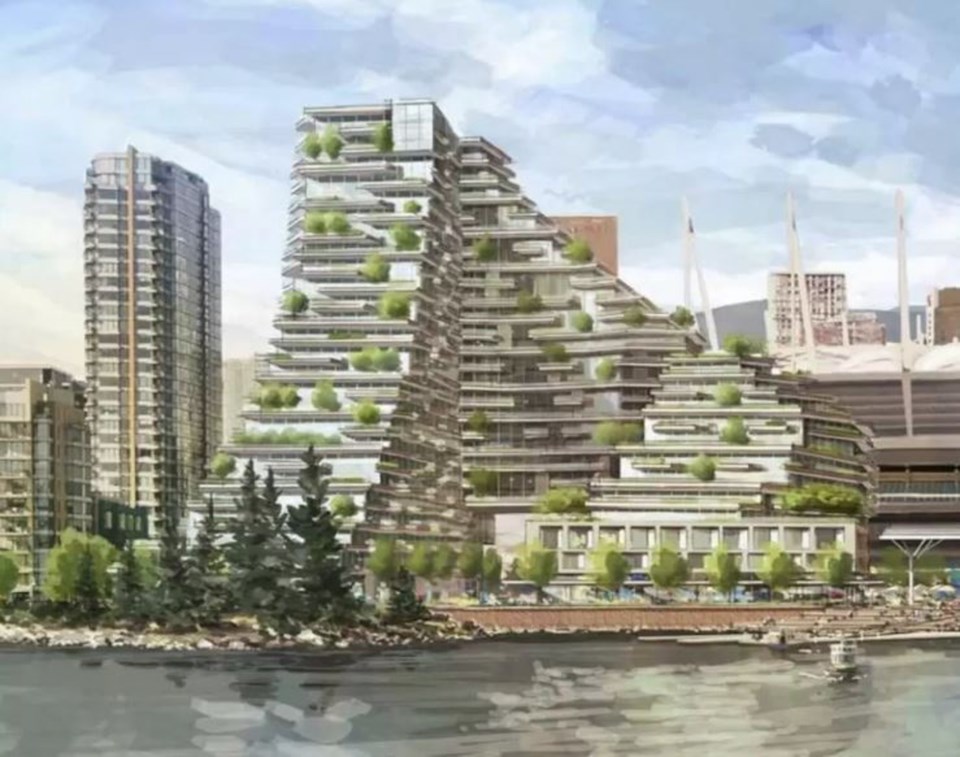 Quantum Park 1550 Burrard Street
Instead of the historic Molson Coors brewery, the absolutely massive Quantum Park is offered. In total, the park would have a total area of ​​1.8 million square feet, which would include 300,000 square feet of office space, retail space, restaurants and showrooms on the ground floor, and 3,000 houses in towers between 15 and 25 stories high.
The towers are interconnected by a multi-storey podium and a multi-storey rooftop aerial bridge. The redevelopment takes its name from its two large glass-covered atriums, which are modeled after the wormhole shape of quantum theory according to the project's website.
The atriums also feature green walls, and the funnel-shaped glass roofs provide the natural ability to collect rainwater for reuse in landscaping irrigation. The plan also includes three acres of green roofs, making it the largest green roof of an office complex in Western Canada.
This proposal is currently in its pre-application phase; no formal request has been made to the City of Vancouver.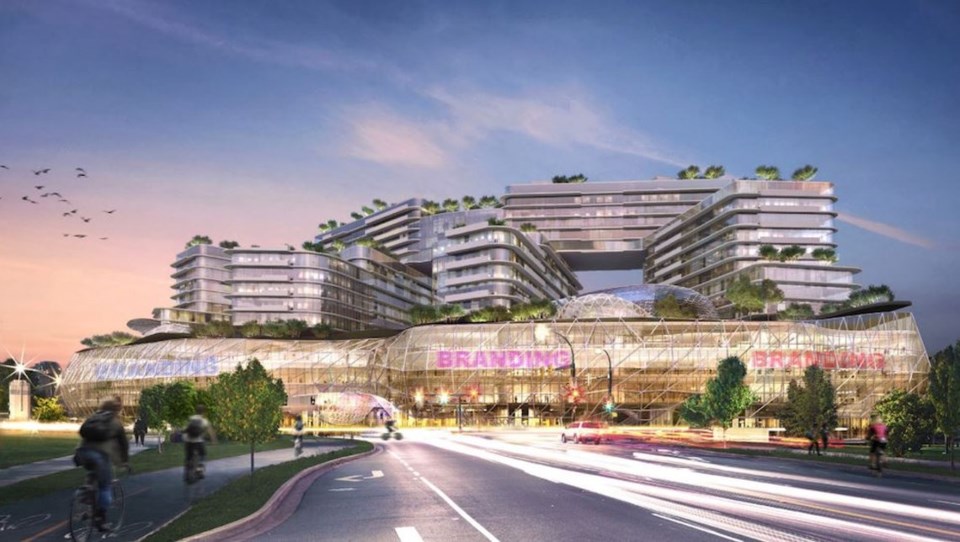 1063-1069 and 1075, rue Barclay
This 47-storey tower contains approximately 79 social housing units and approximately 295 market condominiums. A proposal submitted to the City of Vancouver includes a new public plaza, driveway beautification and exterior landscaping to create a park-like environment.
The request has not yet been approved and is currently being reviewed by City of Vancouver staff. More information is available on the City of Vancouver's project website.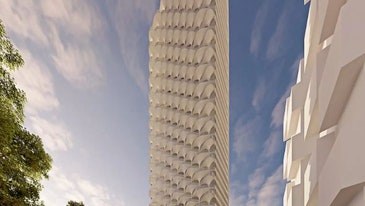 Post office 349 West Georgia Street
La Poste is one of the largest heritage revitalization projects in Canada ever undertaken, the restoration and addition of two towers to the Canada Post building in downtown Vancouver.
The Mussen Cattell Mackey Partnership applied to the City of Vancouver for permission to keep the podium structure and the city approved the request on June 30 of this year.
Located on an entire block bounded by West Georgia Street, Homer Street, Dunsmuir Street and Hamilton Street, the total size of the project includes 1,050,000 square feet of office space and 175,000 square feet of retail and parking space.