This summer Building Design has become Building [Re]Design and launched the Stratford Design Challenge.
We invited you to take a look at East London city center, identify a problem that interested you and resonate with further afield, and then – in less than 500 words and a picture – come up with a solution.
We particularly encouraged architects and early career students to participate and assembled an influential jury to review the applications (see box below).
Here we present more of the nine shortlisted applications.
All the finalists will be celebrated at the Architect of the Year (AYA) awards ceremony on October 14, when we will also announce the judges' decision.
Book your tickets for the AYA here.
Alongside the competition, the Stratford Design Challenge invited leading urban thinkers to contribute to a series of articles on thought leadership. Those published so far can be found here.
>> Read also: Stratford Design Challenge finalists: part I
3 / Rhythm Alley Stratford
By Sanaa Shaikh, Native Studio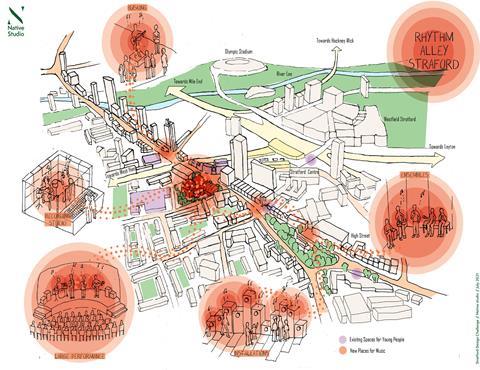 We want Stratford back. We want to reclaim the urban space in which we live, work and play. We are the marginalized communities of East London who have seen our world change in the name of regeneration. We have a Westfield, some of us have jobs at John Lewis. But when you cross Stratford High Street nothing has changed. The same poverty, the same deprivations, the high levels of crime and the young people with little to do and without prospects, excluded from the red line of "regeneration".
We come from Newham, where pirate radio stations gave birth to the grime scene. Where Dizzee and Wiley came out on top, we broadcast from rooftops to estates and street corners where no one would find us, we played in warehouses and REX. Spaces where we were free to express ourselves through music and art. "Regeneration" took away these spaces. Now there is nowhere for young people to express themselves, nowhere designed with us in mind, nowhere where we feel comfortable.
We offer a vision of Stratford as a 'busy lane' – a shopping street emanating the sounds of the young identities that define Stratford and Newham. A streetcar will pass in the middle, removing the main artery of passing cars to create a more intimate and human-centered public route. Pockets of urban spaces will be formed from which we can express ourselves through music. Music from the various cultures that cross Newham – Ragas, Qawwalis, Ska and Afrobeats, to contemporary Grime and Breakbeats. Institutions surround us, but none allow us to play and develop our informal practices of musical expression. This is why we call for the reconquest of Stratford High Street as a harmonious set of opportunities for musical engagement. This is our strategy for the renewal of our neighborhood. True regeneration.
We have identified various times on Main Street in Stratford where young people often hang out. We propose to transform them into opportunities for artistic expression and performance – places of joy and excitement.
The main street will be dotted with spaces for street performances, group acts, musical installations and a range of performance spaces, culminating in a larger performance space with recording facilities. This will be south of Stratford High Street, the side that has been neglected by regeneration and is home to the local people and communities that existed long before Westfield arrived. The new performance space will create a musical hub and focus here, encouraging greater community-centered connectivity, activity, life and rebirth.
The smaller performance spaces are buffered by landscaping to define and create privacy. Most importantly, these spaces are informal and can be organized and trained by the artists themselves – creating agency and ownership – allowing the space to begin to become truly public.
The opportunity to cultivate, play and share music with the public fosters community spirit and encourages integration, social cohesion and a chance for the diverse cultures of London to come together.
The proposal enables and actively promotes visibility, participation and agency – social values ​​not mentioned.
4 / Broadway Drive-Thru Market
Through Anna muray and Jack Lynton-Jenkins Original 3 Studio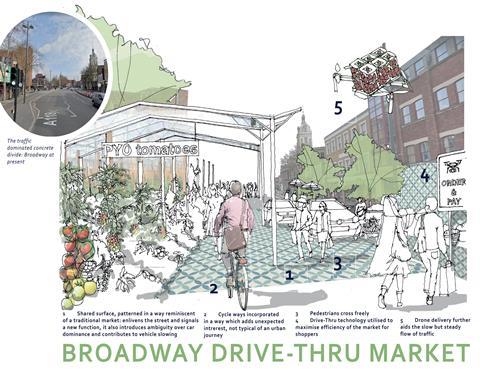 Broadway Drive-Thru is a benign disruptive market.
It is rooted in an emerging urban market typology seen across the world, but uses technology and the rise in popularity associated with the "Drive-Thru" pandemic to address contemporary issues.
Stratford Broadway was once a thriving and bustling market and shopping destination. After years of economic decline in the late 20th century, and subsequent redevelopment that largely neglected the Main Street, it now presents a fracture: a multi-lane highway, largely impervious to pedestrians; dividing the east side of Stratford from the elegant Olympic Park to the west.
This introduces the question: how do you approach automotive dominance in a creative way and enable the people of Stratford to connect for free with the benefits of investing in their city?
Inspired by bustling shopping areas around the world, at Broadway Drive-Thru, cars are forced to slow down to a speed that allows pedestrians to weave safety between them, a scene familiar to many travelers around the world. But drivers get something in return, the ability to stock up on fresh, locally produced groceries; a conversation ; and an experience for all their senses to animate their movements. Modern technology contributes to the efficiency of the shopping experience; Quickly placing an order by phone or touchscreen is rewarded with quick delivery to your car window by drone or street vendor.
As for pedestrians, cyclists and scooterists: at a glance, they are free to cross Broadway at their leisure. The division is permeated. Linear farm sections provide the opportunity to 'choose your own' super local produce and, unlike today's gray and tiring urban realm, provide sensory stimulation – imagine the aromas of home cycling through a greenhouse of tomatoes!
The full set of shortlisted applications will appear on the Building Design website, newsletters and social media as the AYA approaches.
All finalists
Catja de Haas, Catja de Haas Architects
Alcina Lo, Andreas Lechthaler Architecture
Fahad Malik, Wadhal
Lizzie McHugh, EWA
Anna Muray and Jack Lynton-Jenkins, O3S
James Prior, O3S
Sanaa Shaikh, Native American Studio
Chris Simmons, Studio Chris Simmons
Kirsty Watt, Fat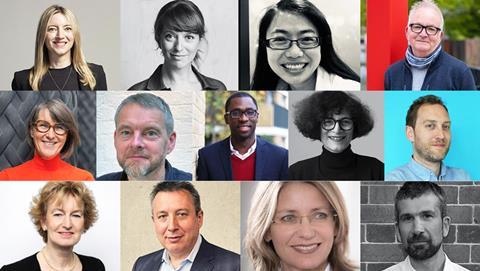 Stratford Design Challenge judges
Pam Alexander, urban regeneration specialist, director of London Legacy Development Corporation (LLDC) and Connected Places Catapult, president of digital community engagement company Commonplace.
Phil askew, director of landscape and creation of places at Peabody working on the £ 8 billion regeneration of Thamesmead. From 2008 to 2017, he led the transformation of the landscape and public realm from Olympic Park to Queen Elizabeth Olympic Park.
Siu Pei Choi, Senior Design Director at Wates Residential. A Bartlett graduate, she previously worked as an architect with Patel Taylor, Levitt Bernstein, Fraser Brown Mackenna and HTA, specializing in residential and regeneration projects.
Melissa Dowler, Director of Bell Phillips Architects and External Examiner at Greenwich and Westminster Schools of Architecture. She has extensive experience in renovation and housing projects in collaboration with local authorities and private sector clients.
Catherine firth, partner of FPdesign, is an architect and urban planner. She was Chief Design Officer at the London Legacy Development Corporation (LLDC) from 2011 to 2014. She also teaches at Harvard and Bartlett, is the Mayor's Design Counsel and sits on several design review committees.
Lanre Gbolade is Head of Production Innovation at Stratford-based L&Q and co-founder of Gbolade Design Studio, with experience on large-scale residential projects. He sits on the RIBA Practice and Professional Committee and is a founding member of the Paradigm Network which promotes Black and Asian representation in the built environment.
Tom holbrook, founding partner of 5e Studio specializing in complex urban regeneration, sustainability and resilience of cities. Work in progress includes master plans around Stratford and the Royal Docks. He is a mayor's design advocate and professor of architecture and town planning at RMIT.
Kay Hugues, design director at HS2 Ltd and former design manager at the Olympic Delivery Authority and main sponsor of the project at the Foreign Office. She was also part of the winning team for the National Infrastructure Commission Ideas Competition for the Oxford-Cambridge Arch.
Roland Karthaus, founding director of Matter Architecture which works across sectors and scales and is known for his research including a project with the Department of Justice to improve the design of prisons for welfare. Architect, town planner and public contractor, he is also tutor at the University of East London, member of the High Streets Task Force and expert of the Design Council.
Claire McKeown, Project Director of V&A East, responsible for the construction of the two new museum sites in Queen Elizabeth Olympic Park in Stratford – the Waterfront Museum, designed by O'Donnell & Tuomey, and the Collection & Research Center in Here East, by Diller Scofidio & Renfro.
Simon tonks, Senior Partner at RSHP. He was the architect of the Transport for London head office project in the Stratford International Quarter in London and also worked on the Leadenhalll Building in the City of London. He is currently leading the detailed design and delivery of the 220m Qianhai Financial Holdings tower in China. He is particularly interested in affordable and sustainable residential design.
Leanne Tritton, founder and CEO of ING Media, specialist in communication on the built environment and new president of the London Society. She is a regular speaker and writer and has worked in Australia, the United States and the United Kingdom.
Keith waller, Director of Development for Costain and Program Director of the government's Construction Innovation Hub, working with government, academia and industry to transform construction.