peter marino's ever-rotating art foundation
Peter Marino, winner of the 2021 DESIGN AWARD for Best Exhibition, presents his Art Foundation in the windy and sunny Hamptons with a freshly updated collection. When the space first opened its doors last fall (see designboom cover here), it featured more than a hundred works of art selected from his extensive personal collection he had built up over the years. over forty years. Exploring the space, the enormous scope of the work is evident with pieces ranging from antiquity to this current decade.
The restoration itself is Peter Marino's love letter to the building and its history, and an example of his affinity for old and new. The Queen Anne-style structure built in 1895 once housed the old Rogers Memorial Library before its restoration, which the New York-born architect – and longtime seasonal resident of the Hamptons – completed last year.
While the foundation invites visitors from everywhere to view the collection and explore the space, Peter Marino keeps the Southampton community in mind by curating the venue as a constantly rotating gallery, with new works constantly on display for returning visitors. The recently updated collection includes more than thirty works by Brazilian artists Vik Munizten works of the german painter Anselme Kieferand fourteen works by Melvin Edwards.
Vik Muniz, Water Lilies, after Monet2005, (center)
vik muniz: trash and chocolate art
Peter Marino presents an extensive collection of over thirty multimedia works by contemporary artist Vik Muniz. The São Paulo-born artist is widely known for his use of unusual materials and objects to recreate historical works of art, with the final piece being a photograph of the resulting collage.
The images below show the artist's work, including a series of paintings first recreated with chocolate syrup and then photographed. To know, The Raft of Medusa — an oil painting completed in 1819 by the French Romantic painter Théodore Géricault – is reimagined by the contemporary artist as part of the Pictures of Chocolate series.
Vik Muniz reinterprets the oil painting of Giovanni Francesco Barbieri Atlas which dates back to 1646. The 2007 recreation is part of the artist's Pictures of Junk series and takes the form of an aerial photograph of neatly arranged trash.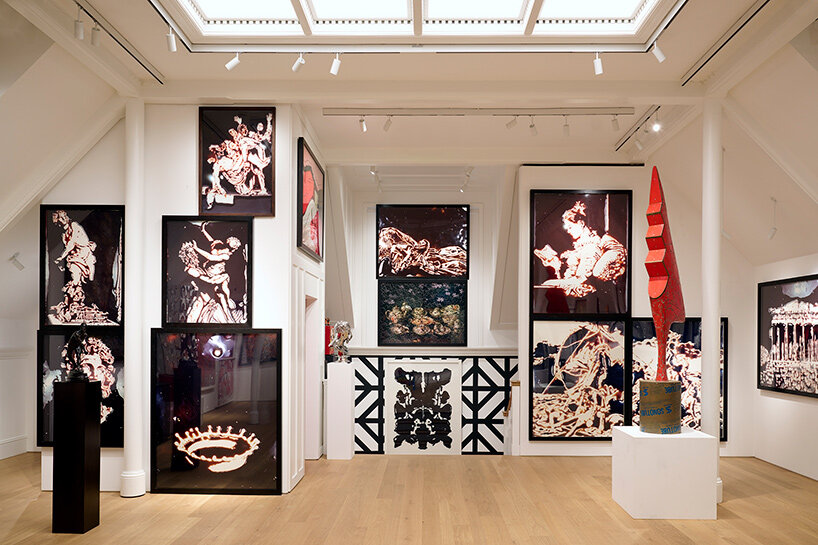 Vik Muniz, C-prints and dye destruction prints including Raft of Medusa, after Géricault1999, Parthenon2003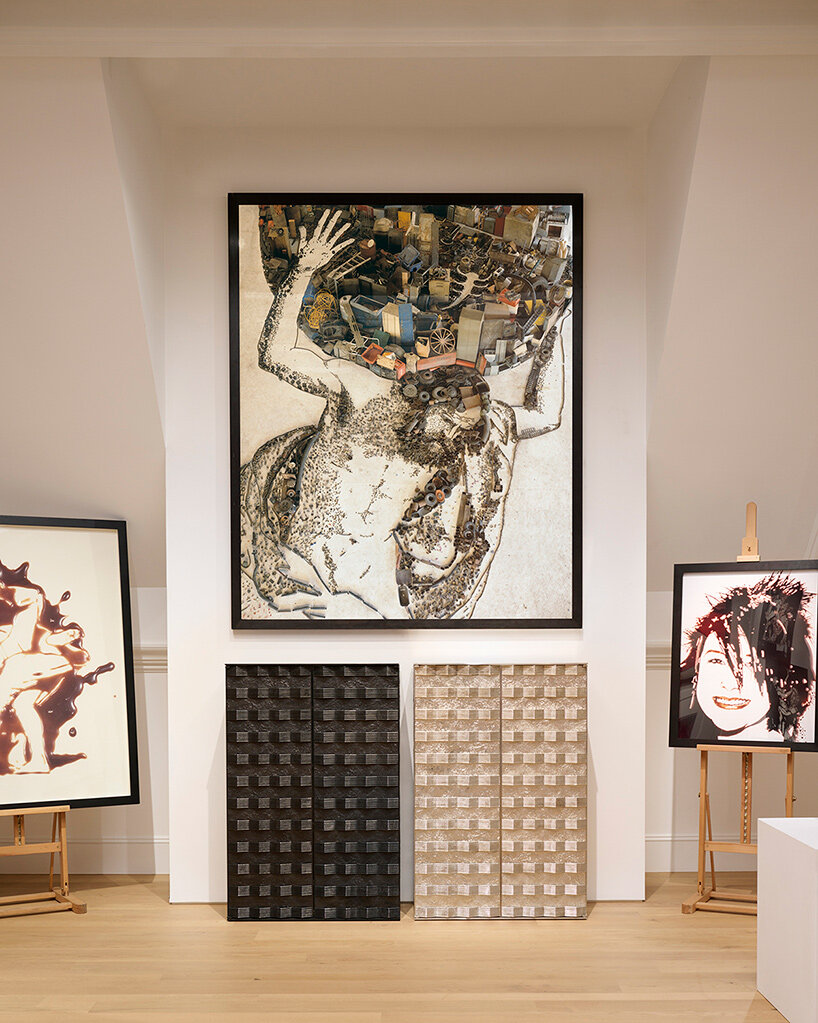 Atlas, after Giovanni Francesco Barbieri, 2007 (center), on two Peter Marino bronze boxes